Comforts for Children
Initiated February 1991 in Lane County, Oregon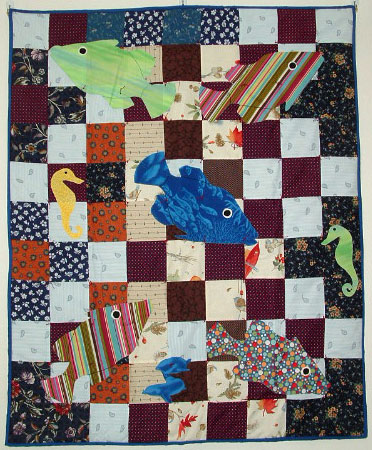 A group project, this quilt uses "grandma" material but makes it "kid friendly"
by adding fishes, seahorses and dolphins. June 2017
Director: Mary Parish, parish5621@comcast.net
---
CFC has 96 quilts available for distribution as of Dec 6, 2017.
Agencies served by CFC may request quilts by email or phone.
---
COMFORTS FOR CHILDREN (CFC) serves "at risk" children, birth through age 17, in Lane County, Oregon with the gift of a small quilt. Our primary focus is to comfort neglected and abused children suffering the pain of separation from familiar surroundings and belongings. We distribute our quilts through agencies that serve the public.
CFC has distributed 32,297 comfort and bunk-size quilts as of Dec 6, 2017.
CFC is an all-volunteer effort. It is not a business. No one receives any remuneration for time and effort expended. Materials are donated.
CFC volunteer work sessions are every Thursday from 12:30pm to 4:00pm at Campbell Senior Center, 155 High Street, Eugene, Oregon. Visitors and new volunteers are welcome!
Quilt kits may be checked out and finished quilts returned at Campbell Center any weekday between 12:30pm and 4:00pm.
Click here for a map to Campbell Center.
This is very low-traffic website. Most of the visits come from within the Eugene-Springfield area and almost all of the other visits are from somewhere else in the U.S. However, there are occasional visits from outside the United States, so just as a matter of curiosity, on 2015-12-20, the flag counter below was started to show visits by country.

---
This page was last updated 2017-11-04.